I found this site (
appinventor.mit.edu/
) where you can make your own android app, and I found it rather interesting. So far I've only learned some basics, and I made this VERY simple Android app:
www.dropbox.com/s/x9k4qd6qw42e…
It's simply just a button that you click to switch from normal image to tied up image, plus it plays a sound when you do so. Not a very good or complex app, but inspiring, I hope

I'm keen on looking furter into this once I've finished the release of Didnapper CB4. Maybe I can make some awesome DID app, or inspire others to do so x)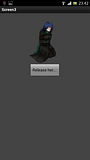 If you want installation instructions for the app I posted here, well, here you go:
- Download the app file.
* If you downloaded it with your phone, it should be in your download folder.
* If you downloaded it with your computer, connect your phone and move it to a folder on the phone
- Run the app file on the phone to install it. You might need a file explorer app to do this. If so I strongly recommend ES File Explorer.
* You might have to enable 3rd party apps to be able to install it. This is normally done in the security settings section of your phone.
- Run the installed app and enjoy